Why do you need the Best Amazon Affiliate Globalizer Plugins for your website? How does it help increase conversions and revenue? Read on to know vividly.
Running an Amazon Affiliate site is not a 'JUST DO IT' thing. You should know how to draw monetization plans for your website analyzing your current visitors and clicks to your affiliate links. 
If you are using WordPress for the Amazon affiliate program and plan to target international visitors and gain commission from their purchase through your affiliate links, you must be thinking of installing the best amazon affiliate globalizer plugins.
These plugins allow affiliates to earn commission from all the Amazon Locale. It helps link your content to Amazon product pages and redirect to respective Amazon stores targeting the visitor's geolocation and country. So, you won't miss your money.
Not heard of Amazon link localization or globalization before? Don't feel bad we have your back. Let's see what they are and why you need them.
What is Amazon Affiliate Globalizer?
As you are here, I hope you know all about affiliate marketing and the amazon associate affiliate program in specific.
If not, learn them here: Affiliate Marketing – Beginner's Guide and A-Z Of Affiliate Income with Amazon.
To explain in One line, "Amazon Affiliate Link Globalization (or localization) means redirecting the website visitors to a country-specific online store of Amazon".
Link globalization or link localization is done by Geolocation targeting that is using IP geolocation of visitors.
How does it work?
When an international visitor enters your website, the plugin checks if there is a country-specific site available for their location, if it does, the visitor will be automatically redirected to that amazon locale from the global site (Amazon.com/Amzn.com).
It might remember you using Google from India and getting redirected to Google.co.in from Google.com. Unless you change the website link manually to Google.com, you will be in Google India. Right? Same here!
Amazon associate is one of the popular and big affiliate marketing. To compare, Amazon has many regional stores in different countries and also has the largest online shopping stores available in the world.
Similar to Google, Amazon also has specific online websites for countries. However, its affiliate program is limited to only 13 countries that include the following:
United States – Amazon.com

United Kingdom – Amazon.co.uk

Germany – Amazon.de

Italy – Amazon.it

France – Amazon.fr

Canada – Amazon.ca

Brazil – Amazon.com.br

Mexico – Amazon.com.mx

Spain – Amazon.es

India – Amazon.in

Japan – Amazon.co.jp

China – Amazon.cn

Australia – Amazon.com.au
When you see it from a visitor's perspective, redirecting to a country-specific website has some advantages. The visitors can see product prices in their local currency, get familiar options for shipping, product descriptions in their preferred language, etc.
Now let's see how it benefits affiliate marketers that is YOU.
To make it simple, without an Amazon affiliate globalizer plugin on the website, you miss the commission from international traffic to your website.
Not clear? Okay, we will explain with an example.
First thing, Amazon online stores are not interconnected so the affiliate ID or store ID you got when you registered the Amazon affiliate program with one country won't work for other countries for earning a commission. If you have an affiliate account on Amazon for India, then you can only make money with purchases made on Amazon.in.
It won't be a problem until your site grows and starts gaining visitors from foreign countries and they try to make purchases through your links. 
Because, if they do so, they will be redirected to their country-specific website, for example, a visitor to your website from the United Kingdom will be redirected to Amazon.co.uk and if they made any purchase you will not get a commission for it, because you were not registered with Amazon.co.uk. 
So, you will miss deserved affiliate revenue that you really earned with your efforts. That is sad!
This might make you think of signing up on all 13 affiliate websites of Amazon. It will be a hassle and you don't have to do that.
Here comes the Amazon Affiliate Globalizer Plugins to rescue. Amazon allows you to localize the affiliate links using plugins so you can use the global links instead of separate links for each amazon locale.
We believe no one wants to miss their potential revenue and commission rate as well as international traffic. If it is true and that's why you are here, we are ready to introduce the Best Amazon Affiliate Globalizer Plugins for you.
Let's get started.
Best Amazon Affiliate Globalizer Plugins
If you have just started an Amazon associate affiliate, EasyAzon might be the best one, to begin with. Those who already used WordPress websites and plugins must know about EasyAzon.
It is one of those Best Amazon Affiliate Plugins for WordPress that every Amazon affiliate marketer comes across.
Though there are many FREE and PRO versions of plugins available for Amazon affiliates with WordPress, EasyAzon never went off the seat.
EasyAzon is available for Free but their Geolocation targeting is only available with the PRO version. It eases the inserting and tracking of multiple affiliate links and IDs and assists marketers to redirect their visitors to the right Amazon locale.
It offers the redirection automatically but if you like, you can manually choose redirection rules based on the country for each Amazon locale.
In EasyAzon Pro, you get Geo-targeting with multiple options to add affiliate links like hypertext links, image links, CTA buttons, product boxes, and product showcases, and the great thing is these are all 100% customizable.
The product box also has a quick view feature on hover. It prevents suspicious links with its link cloaking.
You can directly link your content and image from the WordPress editor. There is no need to worry about tech terms and coding things. Just install the plugin, add your links, work on ranking your website, and earn a commission.
EasyAzon allows visitors to add amazon products to the cart without leaving your site. It clears up the way for visitors and they can make a peaceful purchase once they are done. Thus, your website gets conversions and sales.
Free Version Details
Version

:5.1.0 

Last updated

: 2 months ago 

Active installations

: 8,000+ 

WordPress Version

: 3.8 or higher 

Tested up to

: 5.9.0 

PHP Version

: 5.6.0 or higher
Pricing
Basic

– Free

Pro

– $47, unlimited personal websites
Started an affiliate with a limited budget? Auto Amazon Links plugin is just for you. Before explaining how great the plugin is, you should know that it is 100% FREE. No wonder, why it has been the first choice for beginners with less capital for their websites.
You don't realize the plugin is Free when seeing its features. It is completely professional and useful.
There are two main features you can get from Amazon Auto Links.
First, is the product list generator. The plugin adds Amazon products to your website directly and makes sure your website stays up to date with Amazon's prices, deals, and offers. 
Second, is an automatic ad insertion. The plugin automatically inserts amazon ads which you can customize like text size, link size, and localization.
You can select the specific products and categories to add products. Also, it automatically displays the affiliate links of products that are new and remove product links that are out of stock or unavailable.
It supports shortcodes, so you can set up the links in posts, pages, and sidebar widget areas to showcase amazon products. All your products are available and ready to buy.
With the geotargeting feature, the plugin converts amazon affiliate links based on the IP location of visitors to provide personalized product suggestions and deals.
You can promote Amazon products in four ways using this plugin.
Category – lets you choose a category from Amazon so your product feed gets updated whenever a new product is added to that category on amazon
Product search – lets you use the search query of amazon
Items look-up – add specific products to promote
URL – product lists from other web sources
If your site has many existing affiliate links, but you just got an associate license, don't worry, the Amazon Auto Links plugin converts all your text links to affiliate product links.
Details
Version

: 5.2.1 

Last updated

:3 days ago 

Active installations

:10,000+ 

WordPress Version

: 3.4 or higher 

Tested up to

: 5.9.3 

PHP Version

: 5.2.4 or higher
Pricing
Free
Amazon Link Engine from Genius Link Mechanism took WooCommerce Amazon affiliate to the next level. It uses the Five-step geo algorithm of Genius Link to provide the most relevant product suggestions. 
The new technology prevents errors and pitfalls that redirect to out-of-stock product pages, blank pages, or unavailable product pages. 
The common localization technology uses product id or ASIN, to find the matching products but this new GeniusLink algorithm goes deeper into Amazon to bring the most relevant and available products.
It makes sure that your website shows the right affiliate products to the visitors. The plugin automatically turns the Amazon affiliate links on the site into global links.
However, you have to pay $5 for every 2000 clicks to make use of these features.
Another great feature offered by Amazon Link Engine is it gives Google analytics tracking and reporting abilities.
The plugin gives the best buying experience with optimized product results so you make visitors happy about the purchase which more likely makes them visit your website often thus it increases sales and revenue.
Free Version Details
Version

: 1.3.9 

Last updated:

1 year ago 

Active installations

: 4,000+ 

WordPress Version

: 2.7 or higher 

Tested up to

: 5.7.6
Pricing
Basic

– Free, 1000 clicks

Starting

– $5/month, 2000 clicks

Business

– $249/month + $10, per 10,000 clicks
If your main need from a plugin is just localization, not the fancy bells and whistles, then Best Azon is right for you. 
Like other Best Amazon affiliate globalizer plugins, BestAzon also localizes all your amazon affiliate links to go to the correct local country stores for the visitor. It also adds the affiliate ID to links so you are free from that hassle.
BestAzon works for all amazon links including short URLs like amzn.to and redirected links through Redirection services like bitly.
The plugin is 100% Free so it will be a great option for beginners.
The only downside we have seen in the plugin is that the redirect URL that the plugin works for goes through Azon's server, not on yours. So, you may lose some of the independence that you might get when you got the ability of amazon affiliate links to run on your web server. 
However, the redirect states that they go through backup on cloud storage so you don't have to worry what if their server goes down or not. Your links are still online.
Free Version Details
Version

: 5.2 

Last updated

: 1 year ago 

Active installations

: 700+ 

WordPress Version

: 3.0.1 or higher 

Tested up to

: 5.7.6
Pricing
Free
5. Amazon Affiliate Link Globalizer
This is probably the first pop-up you got on Google when searching for the Best Amazon Affiliate Globalizer Plugins. 
The installation and setup are easy within two steps. After the installation, add the affiliate ID, and then start adding your affiliate products from Amazon to your pages and posts.
It does all the tracking and localization to take down your visitors to the respective country site for Amazon. The geo-targeting feature ensures you get a commission from all the purchases that are made through the website.
There is a small difference in how the Amazon Affiliate Link Globalizer plugin replaces the affiliate link compared to other plugins. It is that this plugin does not truly replace the link in the site database. You can see the original link that you pasted on hover.
The plugin forwards old links to Amazon to new links with your unique affiliate ID. It has positive and negative effects based on how you use it. 
Like if you delete the plugin, all amazon links on the website won't have an affiliate ID. 
Also, if you install the plugin, all amazon links on the website go through new links with an ID to the respective product pages. The plugin never needs updating.
Free Version Details
Version

: 1.3 

Last updated

: 6 years ago 

Active installations

: 300+ 

WordPress Version

: 2.8 or higher

Tested up to

: 4.4.27
Pricing
Free
6. WooCommerce Amazon Affiliates (WZone)
WZone short for Woocommerce Amazon Affiliate might be your ideal choice if you use the website as an e-commerce store. If it is the case, you have your product lists and categories with already decided prices and descriptions. You may also come up with deals and offers for your products.
It is not only the best amazon affiliate globalizer but also the best amazon affiliate plugin for WordPress.
Not only for e-commerce stores but this plugin is suitable for local store websites, small businesses, etc.
If you plan to use affiliate programs and own e-commerce products on your site, WZone is a great choice. It offers as many options and features to effortlessly maintain affiliate programs and e-commerce sales on a single website.
The dropshipping features of WZone are excellent to utilize affiliate links to the fullest.
Once installed and added links to the plugin, it starts working. With the plugin, you don't need to worry about leading your visitors to unavailable product pages as the plugin removes unavailable products from the list.
This automatic synchronization makes sure your website is up to date with recent products.
The content spinner feature in the WZone plugin automatically edits product details and it lets you do it manually too.
You have two options to promote the amazon products using WZone's dropshipping.
In the first method, you add amazon products automatically to your site, when a visitor adds a product to the cart, they will be redirected to the amazon site for checkout.
In the second method, You manually add amazon products to your woo-commerce store. After the visitor makes an order, you purchase that on amazon for them and complete the order.
With the first method your effort is less but you have to depend on Amazon Affiliate Commission and with the second method manual effort is high but you have all the control.
Free Version Details
Version

: 3.1 Lite 

Last updated

: 2 years ago 

Active installations

: 1,000+ 

WordPress Version

: 5.5 or higher 

Tested up to

: 5.5.9 

PHP Version

: 7.0 or higher
Pricing
Lite

– Free

Regular

– $49, 1 site

Extended

– $405, 1 site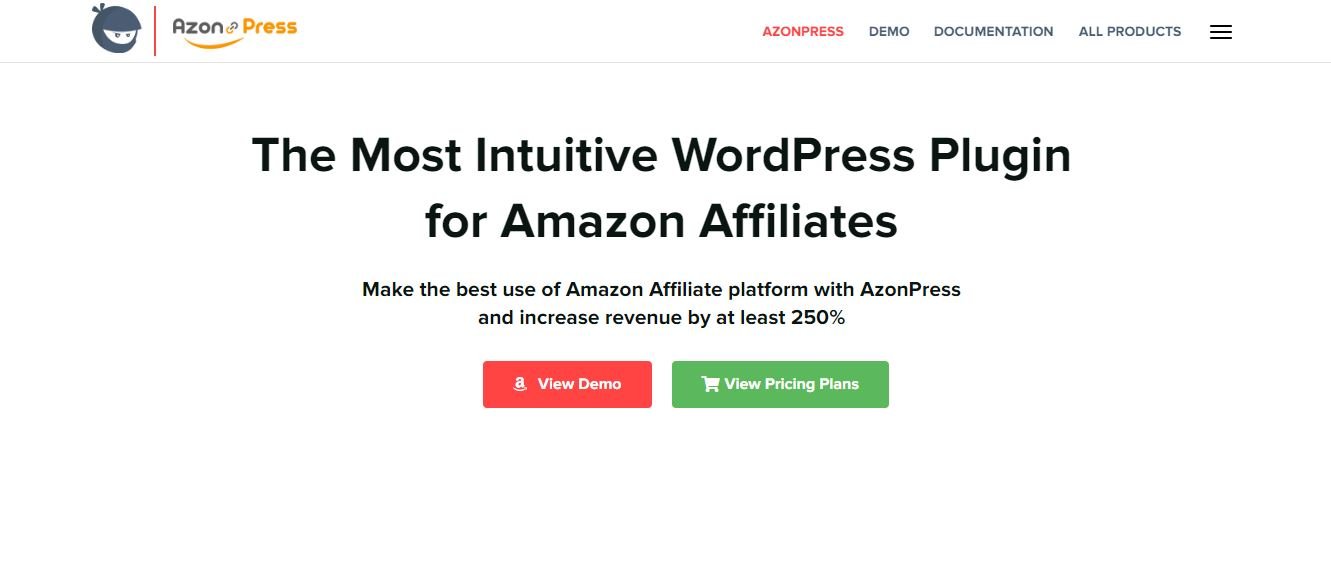 Another all-in-one plugin for WordPress affiliate marketers is AzonPress. In addition to geo-targeting, it helps marketers improve their monetization through international traffic by attracting visitors with many virtual features.
With country-specific geotargeting AzonPress improves the conversion and prevents site speed issues, which is an added advantage.
AzonPress enables its users to use Amazon OneLink integration to avert the possible barriers that Amazon can put in the future for geotargeting.
AzonPress not only supports you with redirecting the visitors to specific country websites but also provides a lot of sales features for Amazon associate affiliate marketers.
Some of the sales-focused features you get from this plugin are product tables, comparison tables, ratings, reviews, and bestseller lists with 100% customizable options. So, you can design it to match up with the overall flow of your website.
Whether you are a beginner or expert in affiliate marketing, AzonPress is one of the best WordPress plugins for amazon affiliates.
AzonPress has full compliance with Amazon policies and uses their dedicated Amazon API.
With shortcode support, you can just generate a code and use it wherever you need it throughout the website.
However, the plugin is premium. You have to spend a few bucks on it to enjoy these features.
Pricing
Single

– $31/year, $119/lifetime, 1 domain

Agency

– $63/year, $199/lifetime, 20 domains

Unlimited

– $127/year, $279/lifetime, unlimited domains
AmaLinks Pro is another great choice for the premium version. This WordPress plugin uses multiple methods for Amazon affiliate link localization.
The plugin offers amazon affiliate link localization using Genius link along with the traditional geotargeting method of Amazon.
Both are simple and easy to access. After installing AmaLinks Pro, you have to place either the Genius link or Amazon OneLink code in the backend.
Like AzonPress, AmaLinks Pro also allows its users to have an alternate localization method that is Genius Link for the cases of javascript issues of OneLink.
AmaLinks Pro is a premium plugin so you have to spend between $67 and $527 based on the plan you choose.
Using geo targeting via Amazon OneLink is free but the charge is for Genius Link. So, you are not paying for AmaLinks Pro but Genius Link.
However, thinking how much more sales you will get from using a link localizer plugin, paying $2 for 1000 clicks on affiliate links won't affect that big.
With many distinctive features, AmaLinks Pro is the most reliable amazon affiliate plugin.
The Table builder comes as an add-on with the plugin that lets you create product tables, comparison tables, etc.
For product boxes, you get the popular premade designs to choose from. Not all end with it.
You also get google analytics event tracking, customized CTA buttons, product showcases, and many more.
Pricing
Blogger

– $67/year, 1 site

Basic

– $127/year, 3 sites

Premium

– $197/year, 25 sites

Platinum

– $597/year, unlimited sites
9. AAWP (Amazon Affiliate WordPress Plugin)
No one misses knowing Amazon Affiliate WordPress Plugin (AAWP) in their affiliate marketing journey. 
This plugin earned the utmost popularity and trust from affiliate marketers. It uses a Geotargeting feature to localize the amazon affiliate links and lets you monetize the international traffic.
It does not use Amazon OneLink. After installation, you have to enter a unique tracking ID for each affiliate account you added. Then the plugin will take the visitors to their country-specific amazon locale using a third-party IP tracking service. 
However, you get 3 options to choose from for your desired IP tracking service. All those third-party tracking services are free.
It might be a disadvantage as these are free, we don't trust how much accuracy they can possess.
Besides that, AAWP is the most advanced plugin for conversion and affiliate linking. You can add hypertext links, media links, multiple data fields, widgets, add products information including title, description, rating, discounts, recent deals, etc.
Use different color styles and themes or create your own to attract visitors. It is simple to insert and track affiliate links with AAWP. Their features are fully compatible with all devices.
Some of the other useful features of AAWP except geotargeting are,
Tables

Caching

Google Accelerated Mobile Pages (AMP)
However, if you are looking for a plugin just for affiliate link localization, choose a different one from the list.
Pricing
Personal

– €49/year (~$60/year, 1 site)

Plus

– €129/year (~$155/year, 3 sites)

Pro

– €249/year (~$300/year, 10 sites)

Ultimate

– €399 /year (~$480/year, 25 sites)
A legitimate affiliate link localizer plugin from Amazon, Amazon OneLink is an exemplar of all Amazon affiliate link localization plugins and tools available out there.
To use this plugin you should have OneLink JavaScript on your website. The plugin creates global links and redirects to the amazon store near the visitor's current location using the script.
Amazon OneLink works like a champion in providing audiences with the exact product or the most relevant product or match product for all international orders.
It has many dedicated link localization features for the affiliates. However, it has downsides that make it last on the list.
You can only create text links with this plugin.

No customized CTA buttons.

No modified link display options.

Above all, the plugin has many reported errors for Javascript.
The plugin adds about 22.3 KiB on your affiliate pages which may affect the page loading time.
To use the Amazon OneLink for your website.
Sign up for the Amazon US program.

Go to

Tool > OneLink

and choose the country to connect.

Sign up for different international Amazon associate programs.

Copy your amazon associate IDs into OneLink.
It needs a lot of manual inputs so better go with the most user-friendly and handy plugins to cut down the time.
Which is your take on the Best Amazon Affiliate Globalizer Plugins?
As an affiliate marketer, you have to make use of every little opportunity to monetize your website. Having a website with a foreign audience needs affiliate link localization to take advantage of every visit to the page and click on the links.
Hope our list of Best Amazon Affiliate Globalizer Plugins for WordPress showed you different ways and gave you better ideas that help maximize your conversion and revenue.
We have shared WordPress affiliate plugins and tools that we used and found to be helpful, why don't you share your choices for the Best Amazon Affiliate Globalizer Plugins? 
We should take on EasyAzon and WZone. Share what you would take on with us in the comments section.